In a year of workplace misconduct controversies and annoyingly persistent discussions about NFTs, sometimes it's easy to forget that there was actually some incredibly solid video game releases too. 2021 may not have been anyone's perfect year, but when a special game roles into your life, it's hard not to just sit back and appreciate.
This year we saw the rise of new and impactful characters, some experimental takes on new styles of gameplay, and a comfortable reliance on some tried and true gaming formulas. Now, as we approach the year's end, it's time to reflect back on the year that was and figure out exactly which games were most meaningful to us. The entire Checkpoint Gaming team voted and collectively we've come to a list of 10 games that we think are super special, impressive, masterful, or otherwise really noteworthy in their own right. Without further ado, here's are Checkpoint Gaming's Games of the Year 2021 available in both audio and written form!
#10 – Forza Horizon 5
Racing games might be considered niche with a very specific audience, but Forza Horizon 5 proved at every turn that it is more than "just a racing game". With a stunningly gorgeous open world to explore in the form of Mexico, filled with mountainous volcanoes, sandy beaches, lush jungles and a party atmosphere that only the Horizon Festival can bring, this entry into the long-running franchise is the most accessible and satisfying racing experience we've ever seen.
The sheer amount of things to do is insane, building on the legacy of the Forza Horizon games before it with a variety of races, battle royale Eliminator mode, seamless multiplayer and more. But it's the extra story beats that really elevate the experience to another level. Searching through Mexico for hidden statues, helping a lucha libre wrestler pull off some stunts, or simply driving a float through a parade are just some of the memorable moments you'll experience, all with a pumping soundtrack and the strongest visuals in any game to date. Put simply, it's the best racing game ever made. – Luke
#9 – Metroid Dread
It was high time our favourite bounty hunter saw the spotlight again, and Samus was given a truly triumphant return in Metroid Dread. Continuing the story from Metroid Fusion, Dread delivers a satisfying continuation of Samus' quest to destroy the Metroid threat. But let's be real, we don't play Metroid for the story — we play to explore every inch of that map and to grab every upgrade we can get our hands on. And in that regard it's everything we love about classic Metroid, but with a boost of fast-paced melee action that makes you feel like a force to be reckoned with.
It's the perfect game to show off the new Nintendo Switch OLED's brilliant colours, displaying environments and UI elements alike in vivid and vibrant colours. Samus has never looked better, and we have never seen her look more badass than she does in this game.  – Edie
#8 – The Forgotten City
Modern Storyteller, an indie game developer from Melbourne, released The Forgotten City in the middle of the year and it was certainly a pleasure to play. What was once an incredibly detailed Skyrim mod has now become a fully-fledged video game of its own. Step through a portal into the past and experience an ancient roman civilization from 2000 years prior. There's a mystery afoot and only one person can solve it.
This game has such a reactive narrative, featuring an engaging storyline with many twists and turns. And better yet, it doesn't overwhelm the player with tasks to do in order to achieve an outcome. The game features a time loop narrative but one that masterfully sidesteps the repetition you'd normally find within this style of game. We adore the branching narrative found within The Forgotten City, with a sense of control over the game's unfolding story that's incredibly engaging. It's an experience that's impressively unique, hard to fault, and definitely a worthy contender for Game of the Year. – Alex
#7 – Inscryption
If last year's Hades was all about reinventing the rogue-like and making it more approachable, then Inscryption is all about tearing the genre down. Developed by Daniel Mullins and published by Devolver Digital, this is a deck-building rogue-like game unlike any prior. Players have found themselves within a cabin, forced to share the company of an eerie individual, playing out a series of card matches in a table-top setting. Largely, it's a numbers game, working through four lanes to pass enemy units and damage your opponent. The card game in itself has some challenging elements, cruelly asking you to sacrifice some of the cards (each sporting a different animal) to play something stronger, hopefully, to be effective in the fight. Incredible builds can be used and manipulated to take a victory. Though tread carefully, missteps have dire consequences.
As is also typical with Daniel Mullins developed experiences, Inscryption is a game that begins breaking apart at the seams. Inside of the experience is an escape-room and… let's just say some various genre and tone shifts. Without spoiling too much, as the surprises are some of its strengths, Inscryption gets incredibly meta. When this happens, all you can do is be along for the ride, following the deep, dark descent into madness. It's because of this, and the exceptional atmosphere, that Inscryption is a particularly special and memorable grimdark adventure. Safe to say, it will be one that stands the test of time. Inscryption is legit. Believe the hype. – Charlie
#6 – Resident Evil Village
Taking the first-person perspective that was so impactful from Resident Evil 7 and adding some traditional Resident Evil gameplay and tone. The eighth mainline instalment of the long-running horror franchise surprised and delighted a lot of players this year as it was able to change up its atmosphere and mechanics to keep us on our toes. Not only did it bring the spooks, but the game was appropriately campy at times and introduced perhaps one of the most memorable and impactful characters in recent memory. Oh lady Demetriscu, how we long for your dominant presence.
Resident Evil Village isn't just a good Resident Evil game, it's a great game even for newcomers to the series. The gameplay was solid from the puzzles to the gunplay and there were so many memorable sections that will continue to impress me every time I think back to them. Village plays on your expectations and is paced fantastically, offering a very enticing and broadly appealing experience not usually found in the horror genre. An absolute standout for 2021. – Elliot
#5 – Ratchet & Clank: Rift Apart
Bold, brilliant, and bursting with energy, Ratchet & Clank: Rift Apart is a glorious return to form for the galaxy's most heroic duo. While Ratchet and Clank remain iconic mascots for PlayStation, the series had seemed to be in decline; the previous mainline game in the series was a brief if well-received jaunt back in 2013, which was followed by a critically panned soft-reboot movie and its tie-in game three years later. After that lacklustre turn, the series could have slipped into retirement, living on solely through nostalgia and Little Big Planet cameos. Safe to say we were a little surprised and very excited to see Insomniac Games turn the tide in a big way.
Rather than another rehash, Rift Apart is new and ambitious. The game kicks off with our heroes separated and stranded in an alternate dimension where the bad guy always wins. Ratchet's parallel-universe variant and war-scarred new co-protagonist Rivet is rougher around the edges than modern Ratchet, more like the larrikin Lombax we saw with the series' launch in 2002. The story switching between Ratchet and Rivet throughout gives players time with their familiar hero while also getting to see a fresh face in a gorgeous and truly next-gen world. Both protagonists blasting into danger across different times and dimensions with a common goal of saving the multiverse sets the stakes—and tempo—high. – Cal
#4 – It Takes Two
Hazelight have been pushing the boat out for co-op games, and hopefully they'll be doing cool new stuff in this space for years. As it stands, It Takes Two is an incredibly well designed, surreal co-op puzzle platformer. It feels like Psychonauts but on a bit less LSD, but maybe that's better for bringing in the uninitiated. The levels are not only beautiful and thematic but allow for a constant stream of new ideas and asymmetric mechanics to flow through. In an unpolished game, it may feel like an attempt to overwhelm and distract critics, but it's pulled off really well here. There's enough time in each world to explore, to experiment, to challenge, but without too much time for things to run stale. Each challenge is balanced perfectly, you will be stumped, but you can overcome it with four eyeballs on the problem.
In a year where we were stuck inside more than ever and played games more than ever, it takes something special to stand out. But when we needed a chance to connect and spend time with others, even if we could not see them face-to-face, It Takes Two was there for us. The game is not just a lovely way to reconnect with friends, it's a huge standout release for the year. – Sam
#3 – The Artful Escape
The debut title for local Australian game developer Beethoven & Dinosaur, The Artful Escape is truly an experience that could only exist within the medium of video games. It's an all-encompassing thrill ride through the cosmos; filled with journeys of self-discovery, tasty jams, and cutting shapes on the dance floor. The artwork on display is simply awe-inspiring, with a strongly defined sense of style that oozes out of every pixel. The Artful Escape reminds us what's special about video games as a wholly unique entertainment platform, that stands outside and even above its peers in its ability to truly transport the player to new worlds that takes them on an emotional journey they won't soon forget.
There is nothing else quite like it, and probably won't ever be again. Did I even mention the game's music? An integral component in this space opera soup, the audio experience resides on its own plane of excellence. Uplifting a heartfelt and surprisingly vulnerable narrative core with electrifying moments of joy and pure ecstasy; you can't help but walk away with a massive smile across your face, with your heart soaring with joy. – Taylor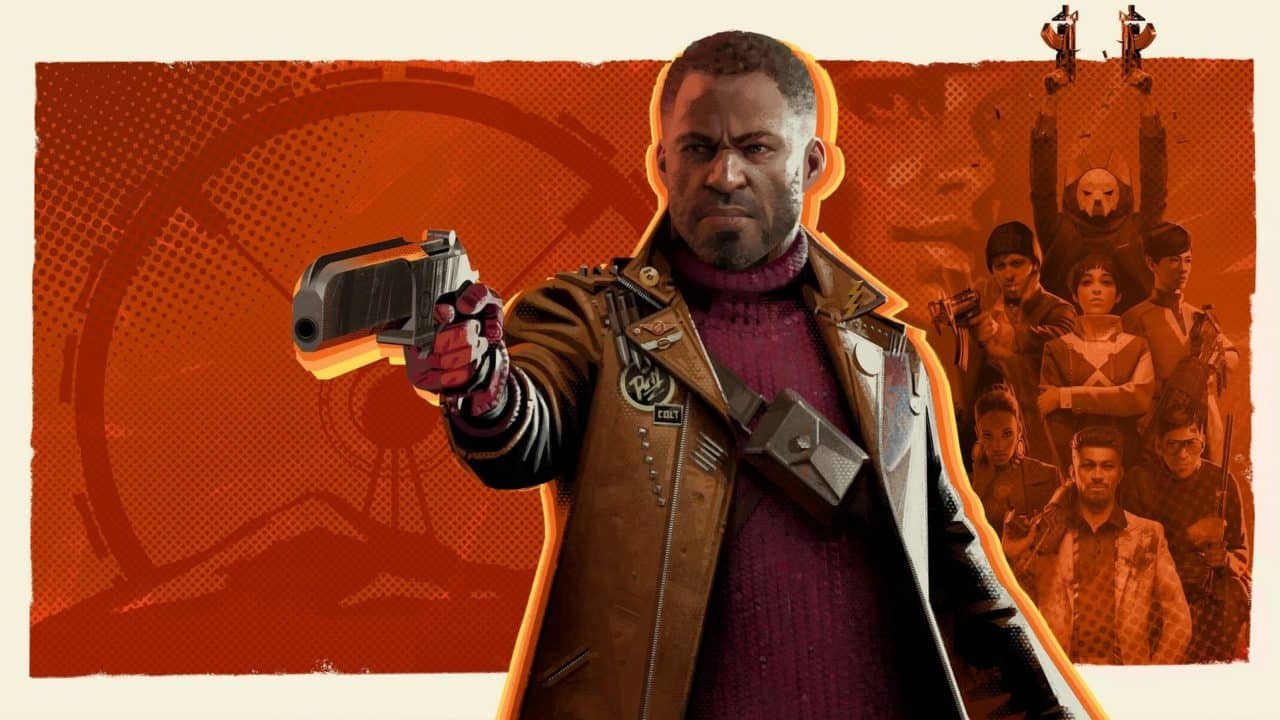 #2 – Deathloop
Arkane Studios know how to create a compelling game full of twists and turns, but perhaps none have been as compelling as Deathloop, the stylish action-adventure that might be difficult to explain but is still oh-so-satisfying to play. Playing as likable Colt, you wake up on the island of Blackreef and must kill all eight of the island's narcissistic Visionaries in one day. To do so is no easy task. There is limited time and resources and if you fail to complete your goal the day resets, forcing you to start over again. What follows is an engaging enigma as you slowly pull together pieces of the puzzle and find ways to manipulate the world so that you can kill them all and achieve your escape.
Deathloop sounds like a tough concept to pull off effectively, but Arkane navigated this challenge every step of the way beautifully. There's a campy and colourful 60s aethestic. There's banter and a strange relationship between Colt and Julianna, who stalks you at every turn. There are the mysteries of the island just begging to be unravelled. There are also stunning production details from the music to the voice acting to the tiny visual flourishes that give Blackreef its own personality. Then there's the signature Arkane gameplay, with superpowers, cool weaponry, and the "play it your way" style that gives you multiple ways to tackle each and every situation. It's a culmination of a studio that is willing to take risks and push themselves, and the player, to another level — and this is one risk that paid off bigtime. – Luke
#1 – Death's Door
Death's Door is the action-adventure indie of the year that just keeps on giving. Its mechanic of including doors to gateways of the underworld means that every door is a new adventure, filled with its own unique map, characters, and possibilities for exploration. It plays like a Hans Christian Andersen fairy tale — cute on the surface but kind of messed up underneath — but what else would you expect when you're playing as a crow seeking souls for the Ministry Of Death?
It's Death's Door's game mechanics that make it incredibly fun and enticing to play. Developer Acid Nerve uses the world's kooky environment to aid you in progressing further and slowly bestows you with magical powers that give you access to paths that were previously blocked off. There's nothing better than backtracking and using your newly equipped ability to smash through a barrier that was impenetrable several minutes before.
As you progress, the world becomes filled with enemies from previous worlds, asking you to use a combination of your magical skills to battle foes in landscapes that seem to be an amalgamation of multiple lands you have already traversed. The environment may seem familiar, but also new and challenging — Death's Door isn't scared to spice things up and push their players just the right amount.
That's before we even talk about the incredible soundtrack that syncs up with the gorgeous visuals, full of tiny details and hidden secrets just begging to be discovered. Plus the narrative is truly beautiful; as you're carrying out your task of reaping, killing bosses results in moments of reflection, identifying that even though they were your foe, they contributed something important to this world we live in and are worth remembering. These moments elevate Death's Door from a humble adventure to an experience with true meaning.
To sum it up, Death's Door is a creative, stylistic, mechanically exciting, unique gameplay experience with a compelling story – and that's why it is very deserving in being awarded our Game of the Year for 2021. – Lisa