Reuben Fleischer, director of the upcoming Uncharted movie adaptation, has unveiled that he is also attached to a Jak and Daxter movie in the works at Sony. This follows comments by Nathan Drake actor Tom Holland that he would love to star in "a really weird and dark" live-action version of Jak and Daxter, suggesting that Fleischer might be bringing the star of his Uncharted film along for the ride.
Speaking with Digital Trends to promote the Uncharted movie, Fleischer advised of the upcoming project. "I'm actually working on Jak and Daxter, a version of that, for PlayStation, which I think would be really cool to bring to life," he stated. Sony has yet to officially announce the project. As such, any other details such as casting, release window or if it will be live action or animated are not yet confirmed. Considering the cartoonishly large elf ears that everyone has in this setting, one would hope it's animated.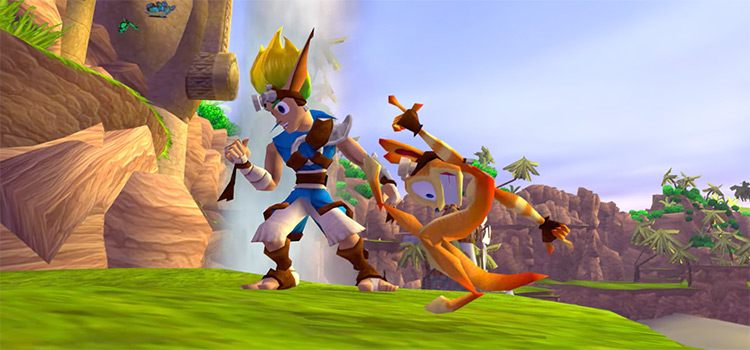 The Jak and Daxter franchise has been effectively dormant since 2009's Jak and Daxter: The Lost Frontier. As such, it might seem like an odd choice for adaptation in the 2020s. Still, with two of Naughty Dog's famous franchises hitting the big and small screens soon, maybe that lightning can strike three times. The light-hearted fantasy adventure tone and goofy sense of humour sets it apart from Naughty Dog's later games, and it would certainly be fun to see it revived for a modern audience. Plus, Reuben Fleischer has shown that he can portray a fun odd couple dynamic with his 2018 Venom film. Adapting that sensibility might work well for Jak and Daxter.
Sony has gone on an adaptation blitz of its famous video game IP, with Ghost of Tsushima, Twisted Metal and Metal Gear Solid adaptations in the works. We haven't seen enough good adaptations to confirm if this is a good thing yet, but Sony are clearly pinning hopes on this being a good idea. Hopefully this Jak and Daxter film can meet fan expectations and revive interest in the series.