2019 has arrived and it's looking like it may be a big year for gamers. Of course we'll never know which games will end up meaning the most to us until the year is over, although it's still fun to have a look at what's to come and get excited for the endless possibilities. This year there seems to be a lot of big name games looking to make waves and compete for our attention. Each individual will naturally have their own list of upcoming games that has them the most excited, although it's hard to look past this list of 10 massive multiplatform games that are set to arrive this year and not get at least a little bit hyped.
You can also check out our podcast below where we go into detail on the biggest and most anticipated multiplatform games of 2019!
Anthem
February 22, 2019
PC, PS4, Xbox One
It's safe to say that Bioware have amassed a loud and passionate fanbase throughout their many years of development. And regardless of your thoughts on Mass Effect: Andromeda, the studio is clearly very loved and revered. It's also nice to see them move in a new direction, trying to dethrone Destiny in the cooperative, sci-fi shooter space.
Since the game's reveal back at E3 2017, we have seen a lot and had many opportunities to allow our collective anticipation to grow. The game seems huge in scope, and clearly there's been a lot of love and dedication pumped into this game to create a vast and beautiful world. Whether you're a cooperative open world fan or not, it's hard not to be at the very least curious about how Anthem will turn out. From the lush greens, to the stunning vistas, to the underwater exploration, to the towering alien foes. There just seems to be so many endless possibilities for this game to impress. Now all we can do is hope that it can live up to our lofty expectations.
Crash Team Racing Nitro-Fueled
June 21, 2019
PS4, Xbox One, Switch
There's no doubt the games industry has been killing it with big, blockbuster remakes of our childhood favourites. Taking the most beloved games of years gone and recreating them in all of modern gaming glory. Perhaps one of the most beloved games from the late 90's was Crash Team Racing, so to see it getting a modern remake was music to our ears.
It's a big task to faithfully recreate a hugely loved product. It's even more challenging considering that you're competing with people's rose-tinted glasses. However with recent remakes such as Shadow of the Colossus and the Crash Bandicoot N. Sane Trilogy, the industry has proven they can do these classics justice. Whether you're a fan of the original game or merely a lover of kart racing titles, this is clearly going to be one game you won't want to miss.
The Division 2
March 15, 2019
PC, PS4, Xbox One
Ubisoft are most certainly at the forefront of open world gaming. Even if you're not the biggest fan of their games, it can't be denied that the publisher churns out massively popular open world titles at a rate unmatched by any other. The Division 2 is the next major title for Ubisoft, and it look like it's more than just yet another open world game.
The Division may have been a flawed experience, although it was still a game that gathered a large and passionate fanbase who are super excited to see what is next to come. Open world cooperative shooters are a huge trend right now, but I have a lot of confidence that The Division 2 will be able to keep up if not lead the crowd. Ubisoft has learned a lot since the launch and the continued development of the original Division, and I can't wait to see it all come together when The Division 2 launches in March.
Doom Eternal
2019
PC, PS4, Xbox One, Switch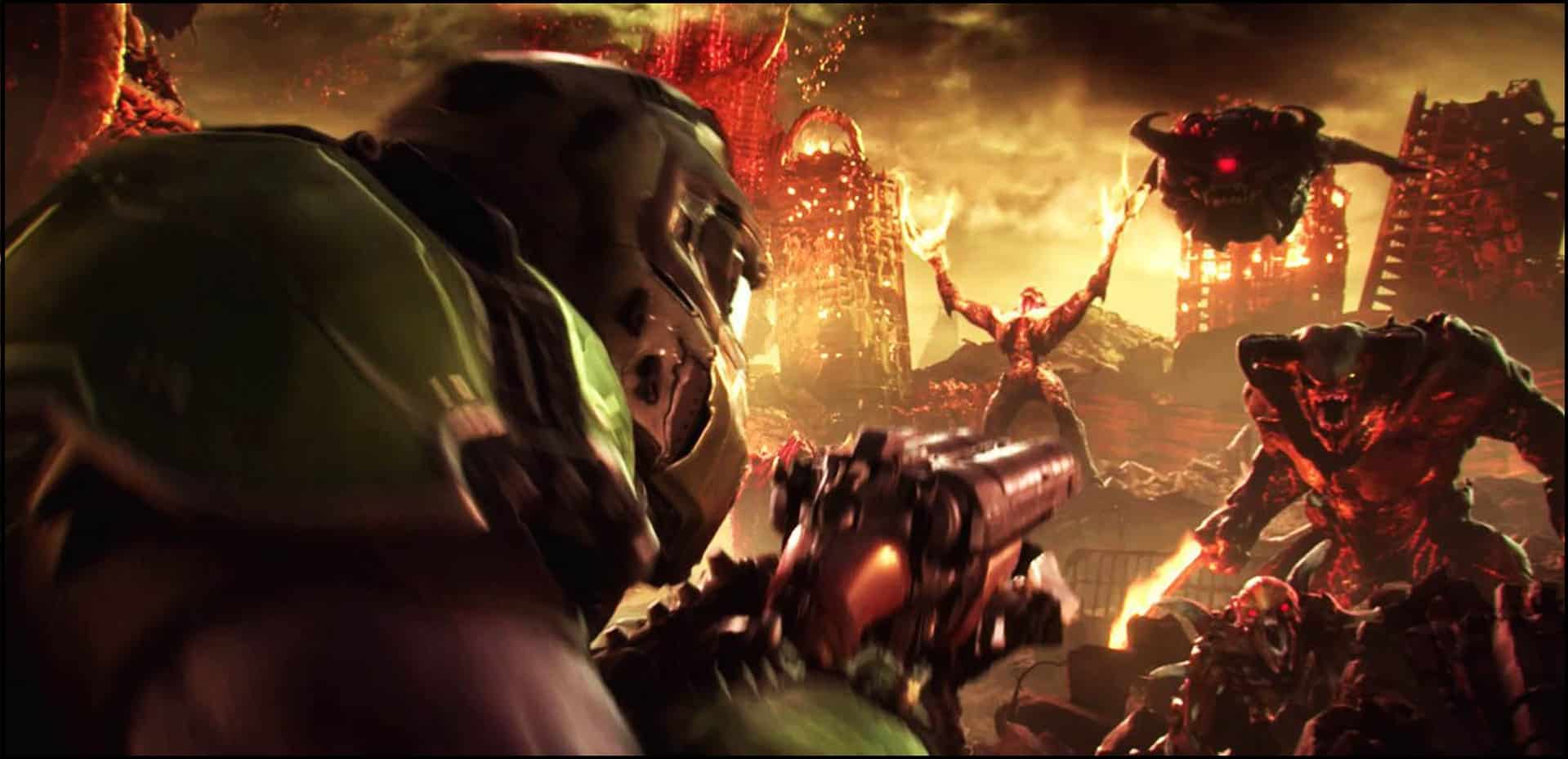 Doom 2016 was one powerhouse of a reboot. They nailed everything from the gunplay, to the carnage, to the nonstop movement during combat. Doom was a badass game and to see it get a sequel is nothing short of thrilling.
It's very clear at this point that ID know what they are doing when it comes to first person shooting. Their games feels so satisfying and powerful and I have no reason to believe Doom Eternal will be any different. Just looking at the gameplay videos already in circulation and it's pretty clear that Doom Eternal is as big, bombastic, and violently fun as the original. Add a grappling hook (because, why not?) and you're left with a game built for pure joy. No doubt Doom Eternal will make a meaty splash when it arrives later this year.
Dying Light 2
2019
PC, PS4, Xbox One
The original Dying Light created a world where free running met  zombies. It was a popular and super fun cooperative game, although there was certainly room for expansion. So when Dying Light 2 was revealed it was very exciting, and with every new reveal that excitement slowly built to complete and utter hype.
It's the dynamic world that shifts with every decision you make that has me the most excited. It's very clear that the developers wanted a more defined focus on narrative this time around and if handled well, the game will be much better off with that new focus. Building up the world of Dying Light into something that's both horrifying and beautiful is a big task, but things seem to be on the right track!
Kingdom Hearts 3
January 25, 2019
PS4, Xbox One
Perhaps one of the most anticipated games… ever. Kingdom Hearts 3 has fans frothing at the mouth to get their hands on this game. 11 years in the making and if this game is anything short of amazing there will be many fans dissapointed.
With so much to live up to, Kingdom Hearts 3 will have to pull out all of the stops. However after watching parts of the demo, talking to fans, and seeing the huge amount of content that has been revealed, the game is certainly looking to be on the right track. Kingdom Hearts 3 is the game many people have been waiting for. This is the kind of game that will bring gamers out of the woodwork and rekindle the love and passion many people had for games in their childhood. Regardless of how it is received, Kingdom Hearts 3 is set to make 2019 a memorable year for gaming.
Metro Exodus
February 15, 2019
PC, PS4, Xbox One
Metro Exodus is certainly a game very high on my own personal anticipation list. The Metro series has always done something unique for gaming. Whether its the dark and bleak aesthetic of the tunnels of Russia or the horrific and isolating atmosphere of the world around you. There's just something special about these games. Metro Exodus looks to be the next logical step for the series, examining and learning from gaming culture and moving the series into a more vast, open direction, without sacrificing the atmosphere the series is known for.
Taking elements of horror gaming, tight narrative progression, and well implemented first-person gunplay. It's hard to dislike Metro and what it's aiming to achieve. If the game releases firing on all cylinders, it's going to be one hell of a release.
You can also check out my thoughts on Metro Exodus after playing the game behind closed doors at last year's PAX Australia.
Mortal Kombat 11
April 23, 2019
PC, PS4, Xbox One, Switch
One of the biggest gaming franchises ever released is still going strong, over 25 years since it originally started. It would be hard to find a gamer who wasn't intimately familiar with Mortal Kombat's unique brand of hyper violence and gore. But obviously the series is so much more than that, helping to pave the path for fighting game design.
The next entry into the huge series is arriving soon with Mortal Kombat 11, and it's hard not to get excited. The fighting game scene has been absolutely killing it recently and having this many strong and thriving games within the genre means Mortal Kombat 11 has a lot to prove and will need to do a lot to stand out. Although I feel like they may just be up for the task.
Resident Evil 2
January 25, 2019
PC, PS4, Xbox One
Merely referring to Resident Evil 2 as a remake would do this game a disservice. After spending time with the game already, it's pretty safe to say that this game is going to make waves when it releases. Taking the atmospheric horror approach that the original Resident Evil trilogy is known for and adding the modernised control scheme of some of the latter titles makes this game the best of both worlds.
It's the perfect blend of gameplay experiences, removing janky movement, awkward fixed camera systems, and campy writing and replacing them with much better alternatives. This will be a game for not only fans of Resident Evil 2, but for players who never got a chance to experience it when it first released in 1998.
We also got a chance to play Resident Evil 2 at PAX Australia 2018, so check out our thoughts!
Sekiro: Shadows Die Twice
March 22, 2019
PC, PS4, Xbox One
The impact that Dark Souls has had on the gaming industry can't be understated. So when the Souls developers revealed their new Souls-like project, attention was immediately captured. Sekiro: Shadows Die Twice is a Souls-like  game based in ancient Japan. It's not a complete reinvention of the genre, but rather a smart move forward from this development team.
Sekiro has an awesome new setting, more verticality to its world design, faster gameplay and a grappling hook. If From Software can take those elements and faithfully keep the mechanics that made the Souls series and Bloodborne so captivating and so genre defining, then we have another absolute winner on our hands. Sekiro will be another game that will no doubt force me to pay strict attention to my surroundings and never give up. It will test me at every corner but reward me greatly for my perseverance. All we have to do now is wait patiently for that release date.
—
No doubt 2019 is going to be a big year for gaming, and these massive multiplatform games will all play a huge role. What's your most anticipated title for 2019?