The famous web-slinger himself is finally swinging into the roster of Marvel's Avengers, at least on PS4 and PS5. The free update that includes Spider-Man has been confirmed for this month, alongside an introductory teaser trailer. Although we don't have any gameplay footage yet, the teaser gives an idea of how he will fit in with the existing playable characters.
The Spider-Man: With Great Power trailer provides a cinematic of Spidey observing some villainous A.I.M. goons kidnapping some civilians. Swinging into the fray and taking down the enemies with his Spidey-sense, acrobatic martial arts, web-shooters and a Mortal Kombat reference, he is eventually overwhelmed until his fellow Avengers join the fight. It's not clear who is voicing this incarnation of Spider-Man. However, considering he neither looks, nor has the voice of, the Marvel's Spider-Man Spidey, it seems like this is supposed to be a distinct version of the character, despite the Sony exclusivity.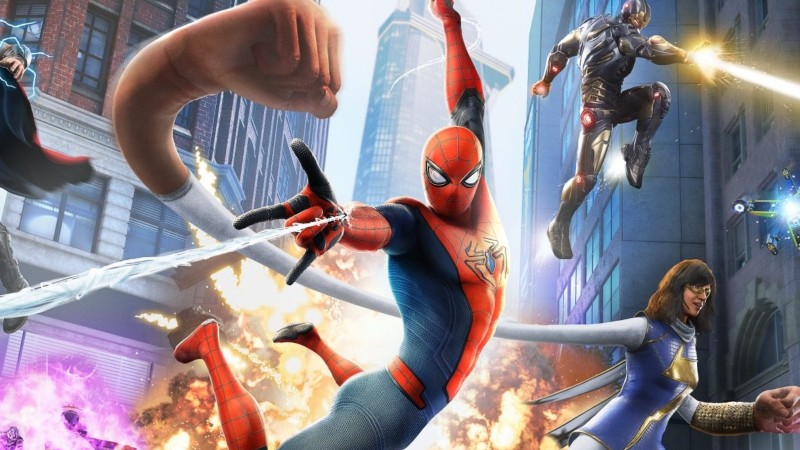 While Marvel's Avengers has not been without its controversies, the pre-release announcement of popular superhero Spider-Man as an exclusive character for the PS4 and PS5 versions of the game was a point of contention for many. Particularly as the Xbox and PC versions did not get exclusive characters to compensate for this, they by consequence became inferior versions by virtue of having fewer characters. This is not due to Sony owning the exclusive video game rights to the character or anything; the Switch-exclusive Marvel Ultimate Alliance 3 had multiple playable Spider-characters, including Peter Parker.
With the game's publisher describing the game's lack of critical or commercial success as "disappointing", it's not clear if even Spider-Man will be able to reverse the fortunes of Marvel's Avengers. Particularly as only one third of the game's player-base will be able to access him, hopefully the financial incentives Sony gave Square-Enix for this deal were worth it. Spider-Man will be freely available for Marvel's Avengers players from the 30th of November 2021 onwards.