June is that wonderful time of year when we celebrate Pride Month. It's a time to celebrate our identity. We remember the events that shaped us and mourn those who aren't here to share their stories. It's also a month that gives hope to those who aren't able to come out just yet for their own reasons.
It's lovely seeing more game developers getting in on the Pride celebrations this year, especially online multiplayer games! This is more than a simple logo change. This is a collection of games that are actively offering a representation of the LGBTQIA+ community in their games.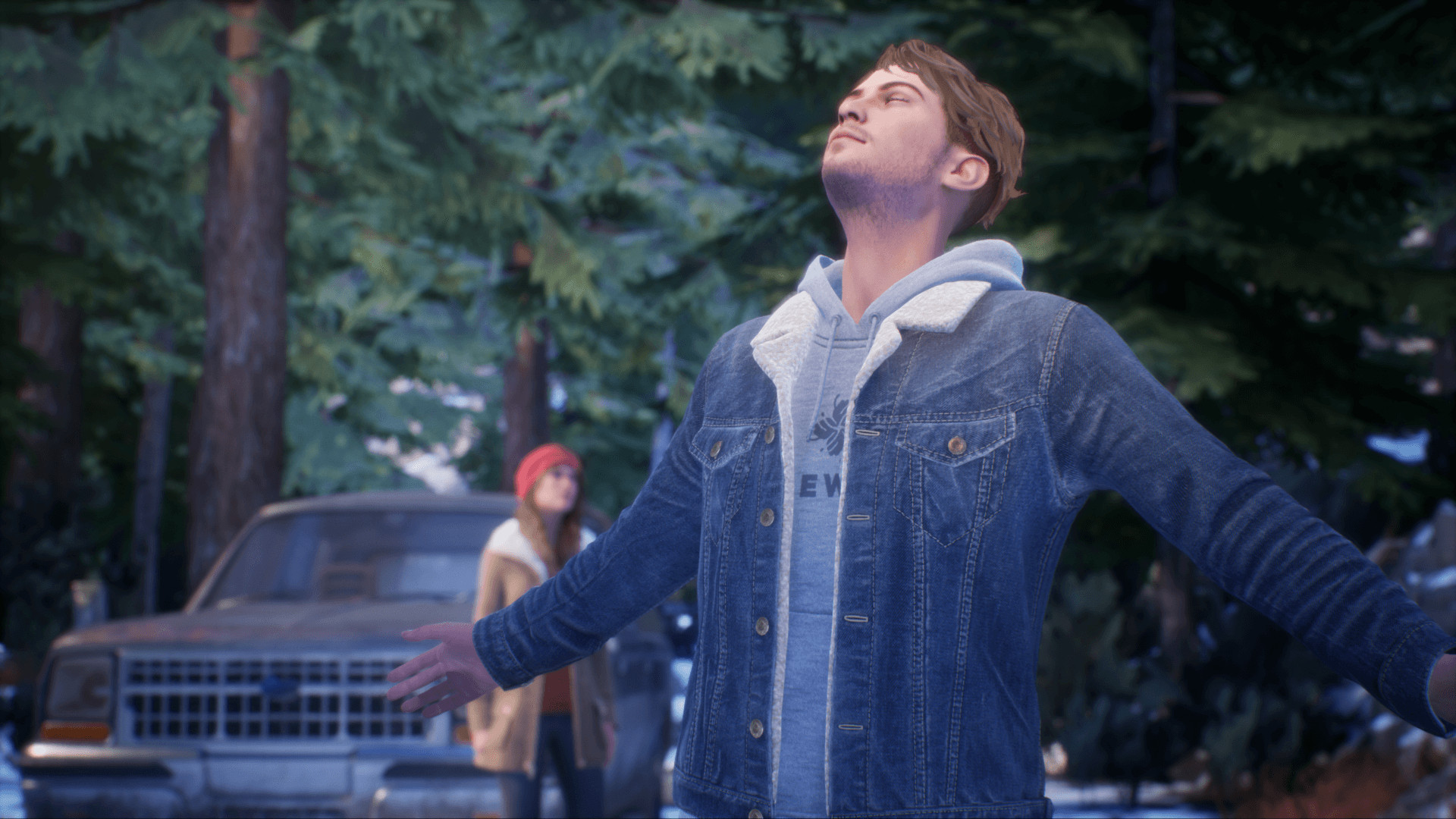 Tell Me Why
What is it: THE WHOLE GAME IS FREE!
Available Till: June 30th
Developer: Dontnod Entertainment
This is such an awesome way to commemorate pride AND celebrate the first game from a larger studio to feature a transgender character as one of its protagonists.
"Tell Me Why is the latest narrative adventure game from DONTNOD Entertainment, the studio behind the beloved franchise, Life is Strange. In this intimate mystery, reunited twins Tyler and Alyson Ronan use their supernatural bond to unravel the memories of their loving but troubled childhood. Set in beautiful small-town Alaska, Tell Me Why features true-to-life characters, mature themes, and gripping choices."
Available free on Steam and Xbox Store.
Dead By Daylight
What is it: A Pride Charm
Available Till: Forever
Developer: Behaviour Interactive Inc.
It's no secret that Dead By Daylight has become quite popular with queer people and Behaviour Interactive has certainly taken notice. They've heard the demand from the community and allies to increase the visibility of the community in the game.
"Our goal is to take the necessary time to ensure we get this right, creating the kinds of stories and characters devoid of negative tropes that our community deserves, versus simply checking a box. (…) This will continue with specific consultations around in-game content and how we can approach these stories without falling into harmful representation." –Behaviour Interactive Inc
The charm is an awesome way to show off your pride in-game as both a Survivor and Killer. As an added bonus, the code for the charm will not be expiring so it will be available to players no matter when they redeem it.
Use code "Pride" in the cosmetics store in-game to redeem the charm.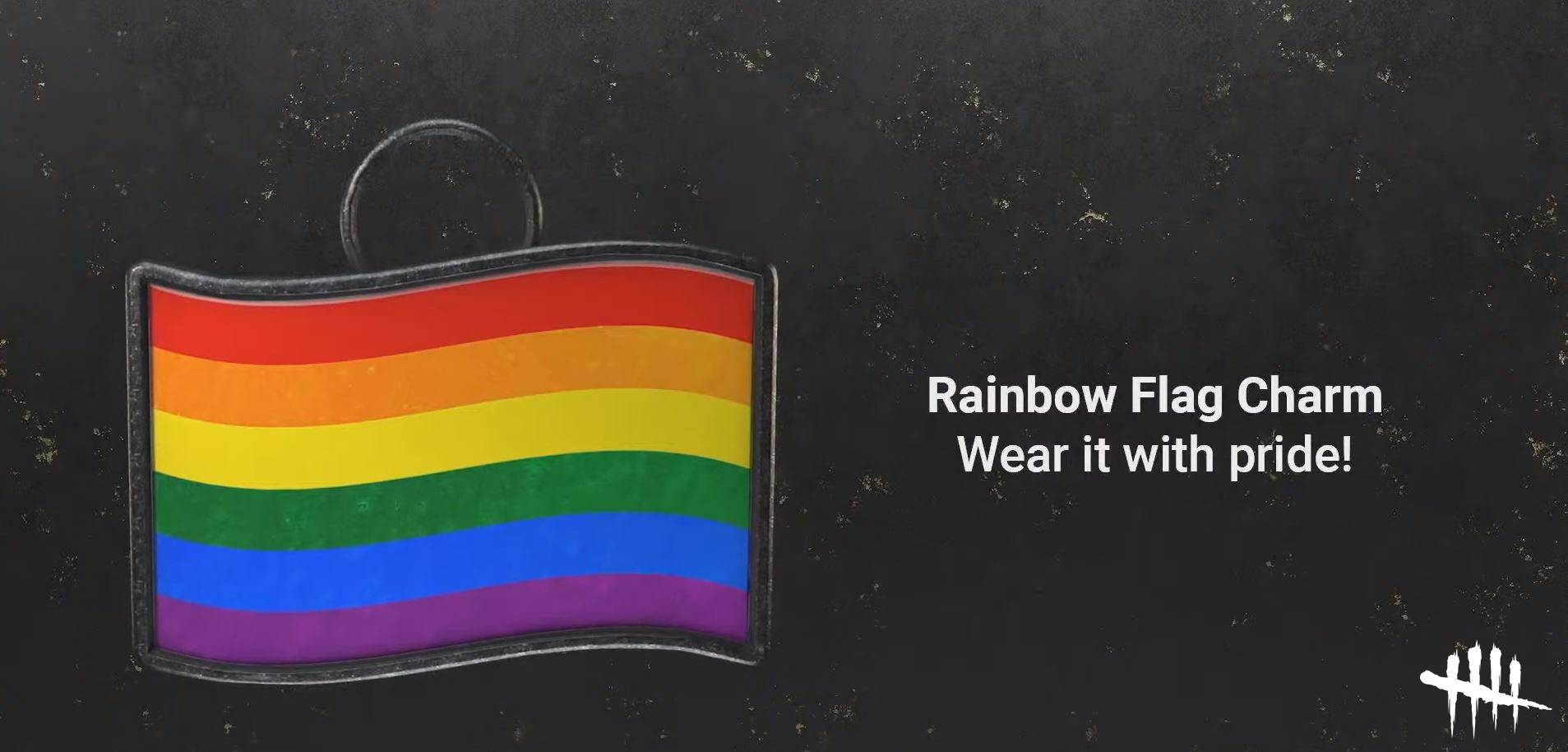 Knockout City
What is it: Pride Icons
Available Till: Forever
Developer: Velan Studios
Despite being the newest game on this list, Knockout City sure isn't dodging pride representation in the game! It's a team-based action multiplayer game that has cross-platform compatibility. Grab your mates and jump in for some chaotic dodgeball!
Use code "52T3-BMJD-3QNL-BQWB-LWK9" in the pause menu to unlock all the Pride 2021 icons. Alternatively, the individual codes can be found here.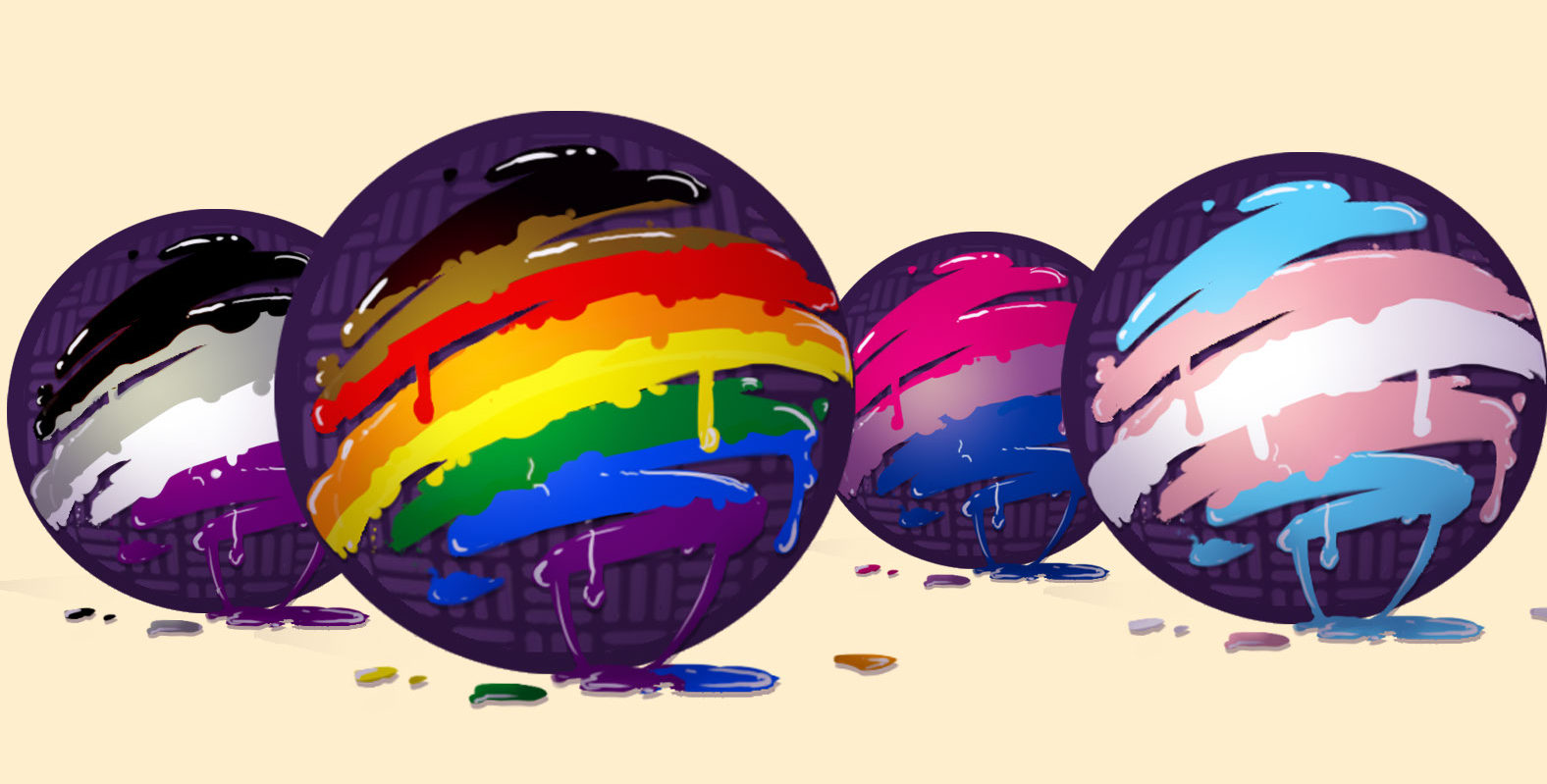 Valorant
What is it: Pride Player Cards and Titles
Available Till: June 30th
Developer: Riot Games
Valorant's currently one of the most popular team FPS titles around that's free to play. It leans into the stylistic, more animated shooters we've been seeing in recent years but it certainly stands on its own. With a huge presence in esports as well, it's awesome seeing Riot Games allow players to represent themselves in-game. There are seven player cards in total that players will need to redeem individually as well as the Proud and Ally title. The developers also announced new countermeasures to combat toxic players by recording voice chat in-game. They're serious about making Valorant as inclusive as possible.
You'll find all the redeem codes for the player cards and titles here.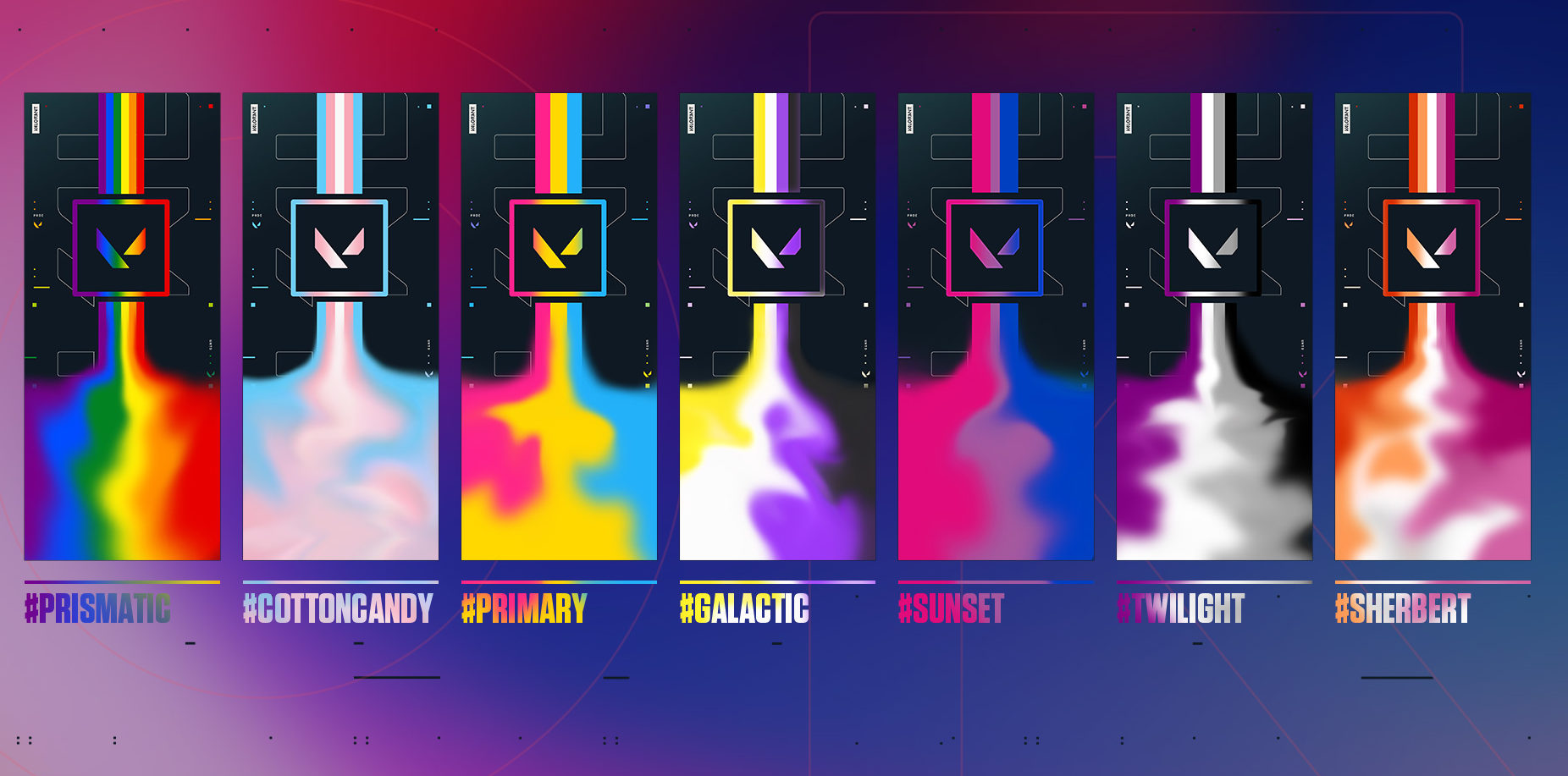 Fall Guys
What is it: Rainbow Nameplate
Available Till: June 30th
Developer: Mediatonic
Everyone's favourite jelly bean bonanza is getting in on the pride action this year. All players have been gifted a rainbow nameplate that was originally worth 2 crowns in the shop. It's a humble little offering from the developers.
We're gifting all players the rainbow nameplate to celebrate #Pride!

Let's goooooo 👑 pic.twitter.com/H2HUGMaVoW

— Fall Guys 🤖 Season 4.5 🤖 (@FallGuysGame) June 1, 2021
Log in to Fall Guys and check the Interface tab in the customise section and you should find the nameplate there. Gotta look fabulous so you can catch those crowns!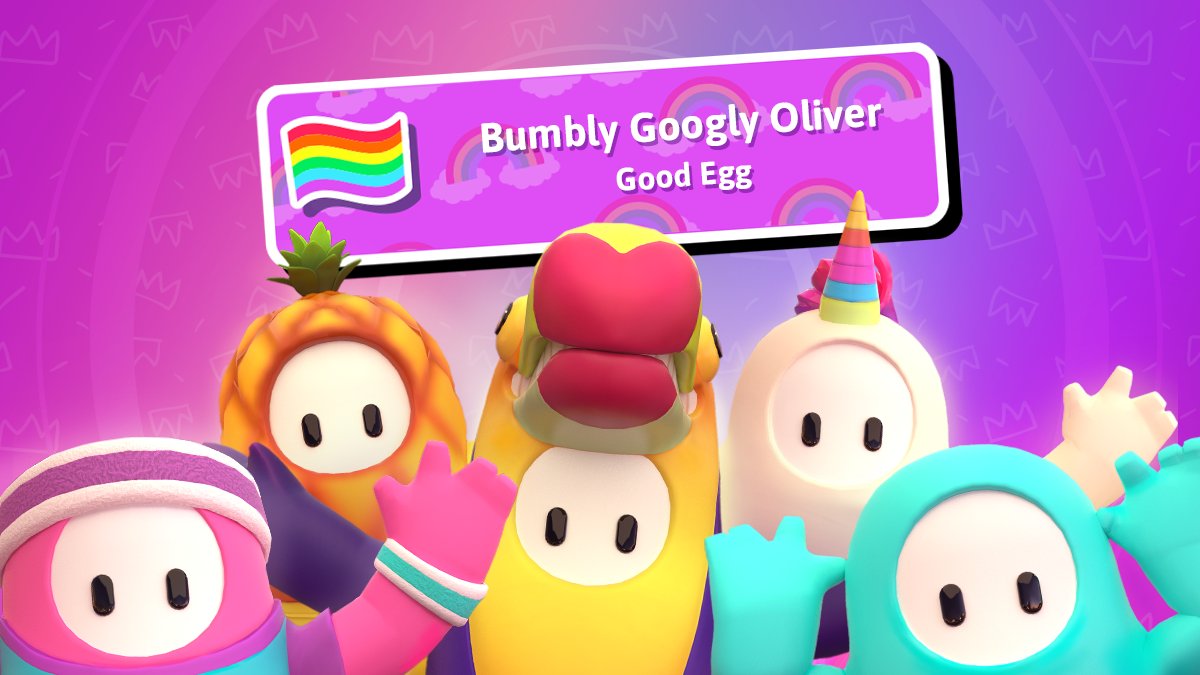 Apex Legends
What is it: Pride Badge
Available Till: June 30th
Developer: Respawn
Respawn's been doing an awesome job with the queer representations in their battle royale game so it's awesome that they're going this one step further. Adorn this neat badge on your player banner to show your pride or allyship!
In celebration of Pride Month, we've granted all @playapex players a special Pride badge. Pride is the opposite of shame: It's about being proud of who you are. We stand with and support players of all sexualities and gender identities. #PRIDE pic.twitter.com/NfsgY6dZEi

— Respawn (@Respawn) June 3, 2021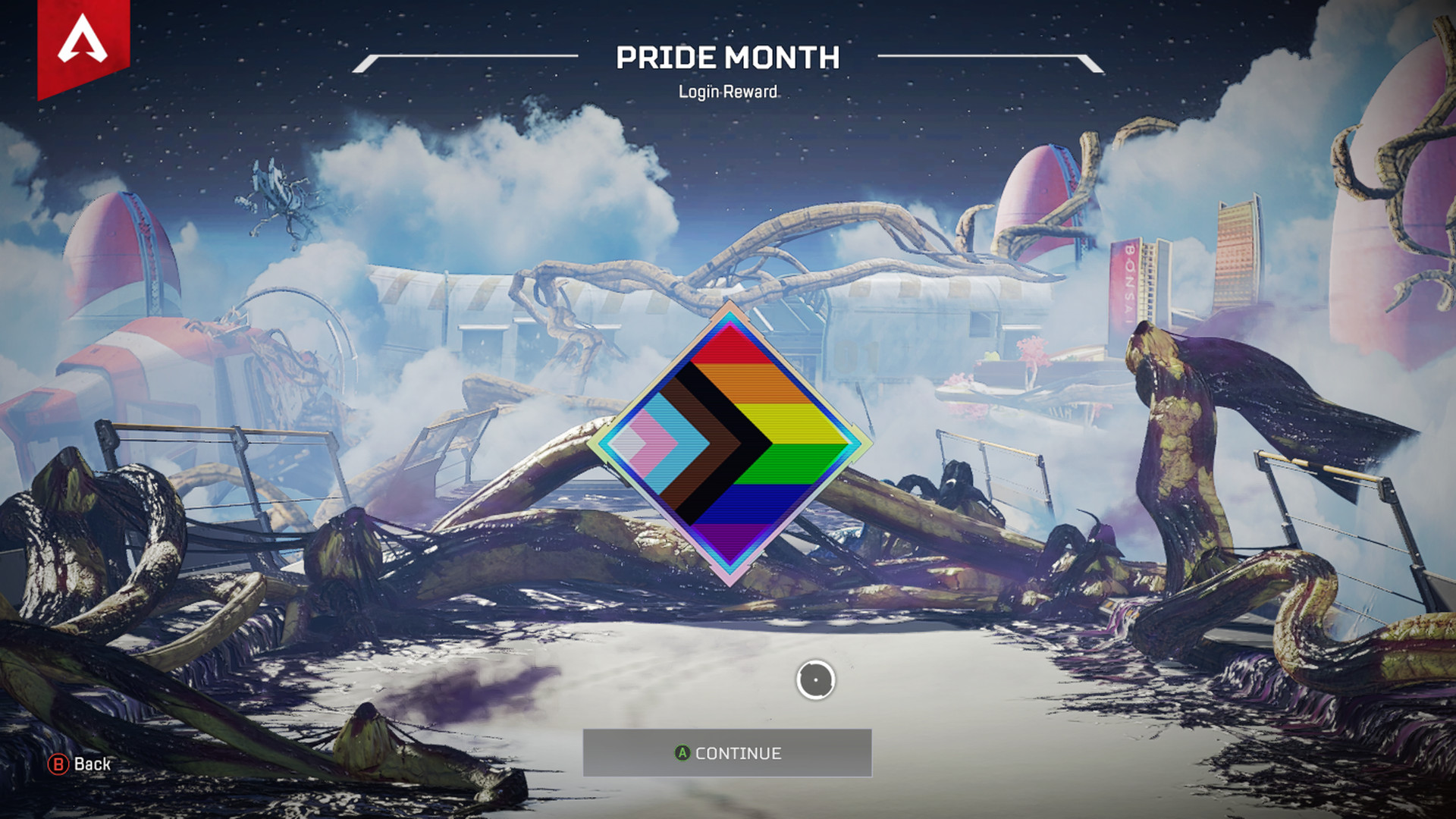 Halo: The Master Chief Collection
What is it: Unity Nameplate
Available Till: June 30th
Developer: Bungie
Microsoft has really shown over the past few years how committed they are to diversity in gaming and this year is no different. This certainly isn't a pride controller that's only sent to selected media and influencers only. This nameplate features the one and only Master Chief with a rainbow visor. It's a radical nameplate that will look great in matchmaking so be sure to get in and grab this one!
Redeem this one by logging into the game during June.

Forza Horizon 4 / Motorsport 7
What is it: Forza Rainbow livery
Available Till: June 30th
Developer: Xbox Game Studios / Playground Games
Get ready to cruise around the roads of Forza in this snazzy 2017 Ford Focus RS. You'll definitely be noticed on the raceways with this thrilling paint job from the folks who make Forza. I might not be all that great at professional racing games, but it doesn't mean I don't want to look good when I lose!
Redeem this one through the in-game message centre after June 1 in ether game.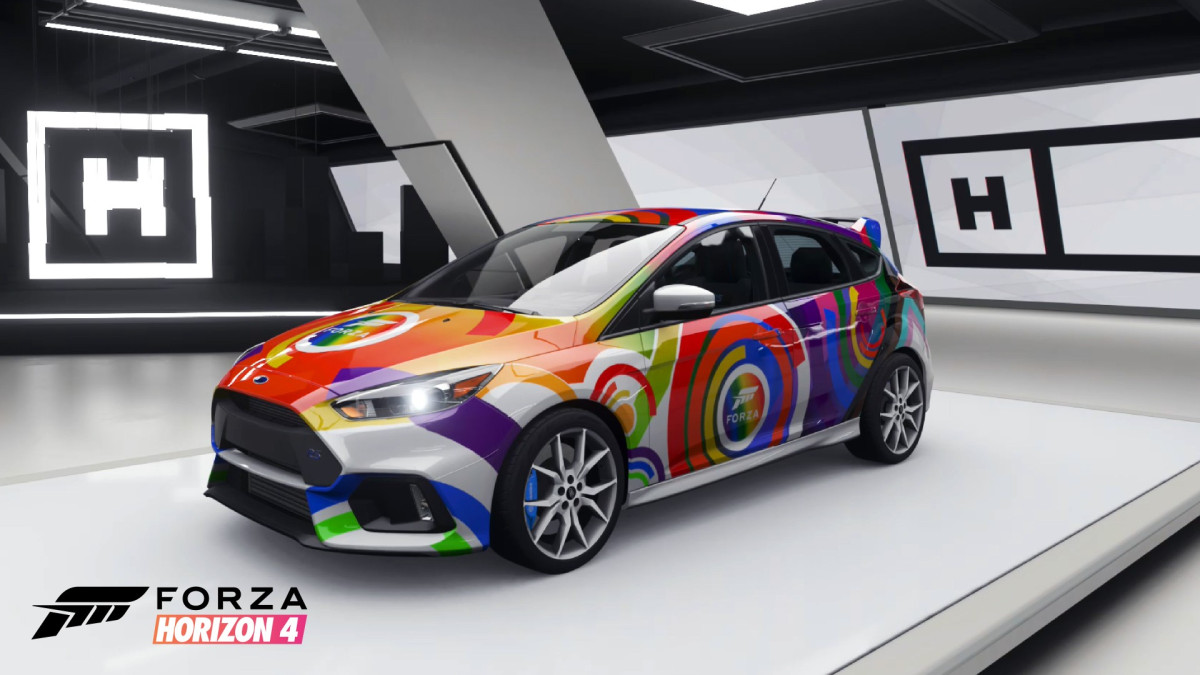 And there's more from Microsoft
As an added bonus from Microsoft, you'll be able to redeem a "True Colors" pride profile theme and gamerpics on PC and console if you have an Xbox Profile.
Rocket League
What is it: Rainbow tires and Player Anthems
Available Till: June 30th
Developer: Psyonix
This is one of the cooler pride offerings you'll see in this post. Not only is there a set of rainbow tires but there's a star-studded cast of queer music artists coming to the item shop free of charge. You can find the full list of artists here. There's some incredible names there such as Troye Sivan and Hayley Kiyoko! Now that it's free to play, definitely jump on this one and check it out.
The rainbow tires are currently in the item shop and the player anthems will be in the store on the 21st so definitely grab both of these.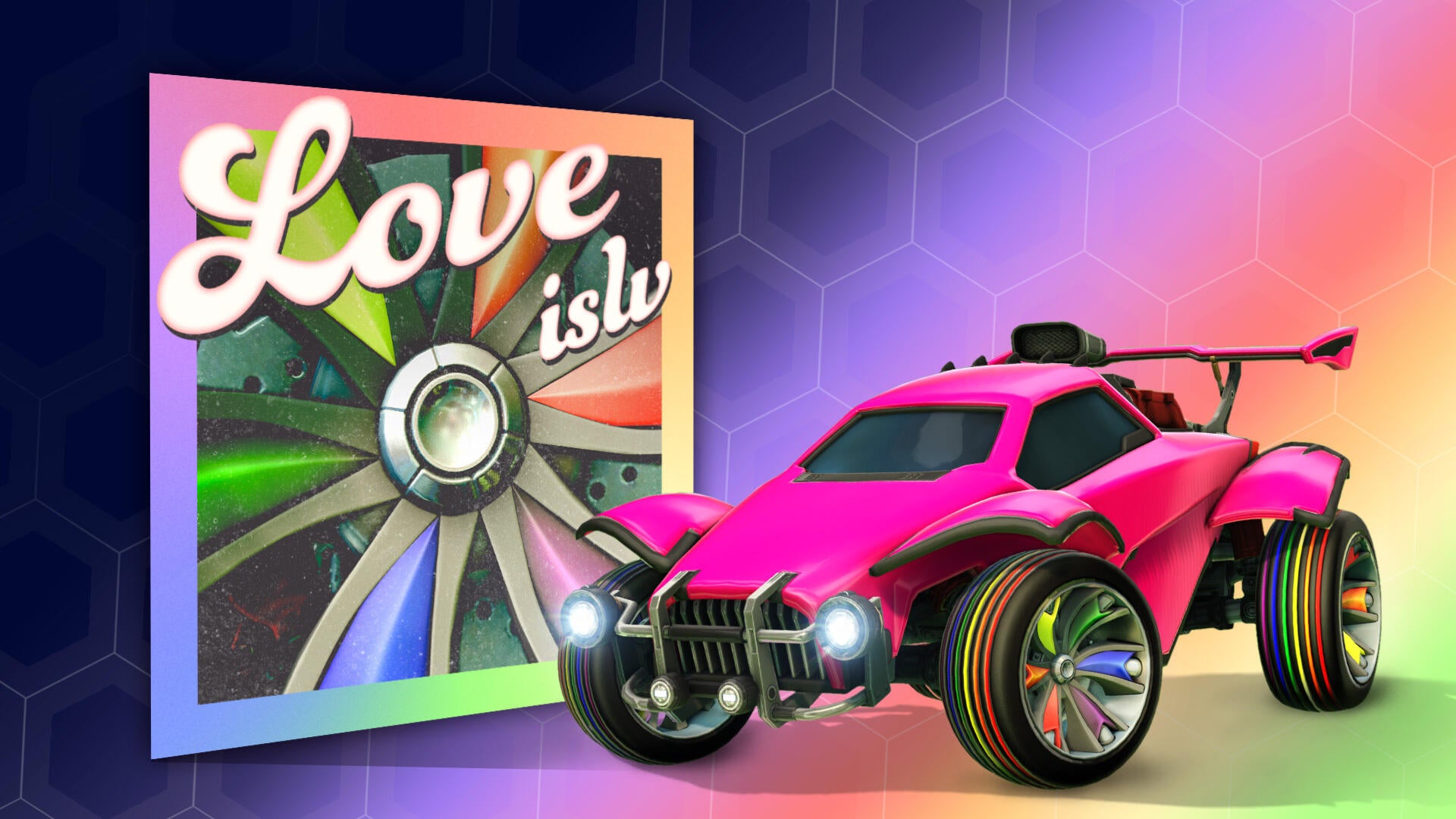 League Of Legends
What is it: Icons, homeguard trails and emotes
Available Till: June 30th
Developer: Riot Games
League Of Legends has been a popular game for years and in recent years it's really been getting into the spirit of pride with a horde of in-game cosmetics and missions.
You'll find full details on how to unlock the full range of cosmetics as well as other League of Legends games that are offering Pride content here.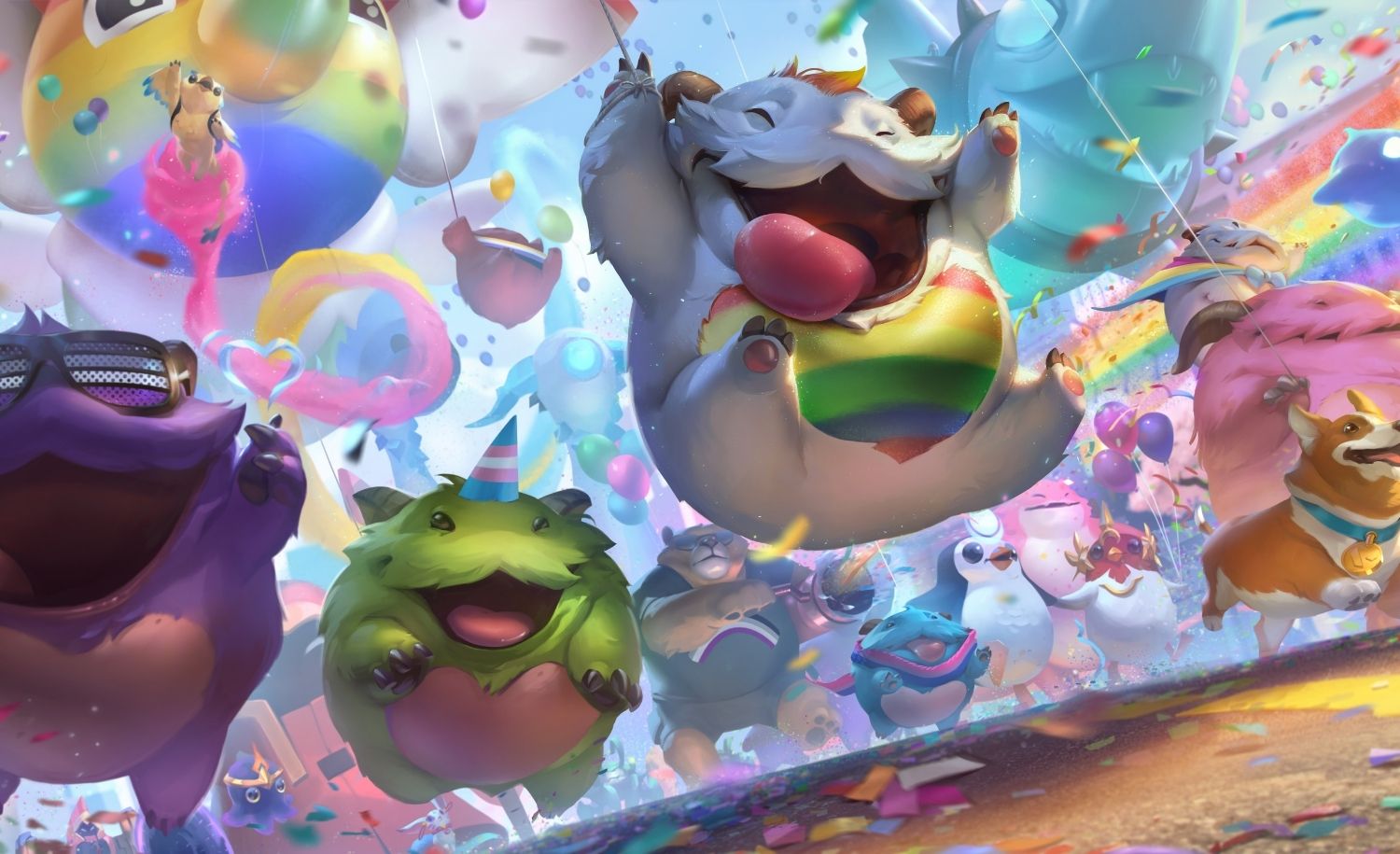 Overwatch
What is it: Rainbow Icon
Available Till: June 30th
Developer: Blizzard
Even though Overwatch 2 is almost here it's so cool seeing something new coming to the game to celebrate pride! The Icon looks awesome. As many know, Overwatch does feature many queer characters and has a diverse fanbase of gamers who live for the representation in the games' characters and player cosmetics. Also, don't forget that cross-play is coming to the popular action game.
Redeem this one by logging into the game before the end of June!

Call Of Duty Mobile
What is it: Calling Cards and Frame
Available Till: June 30th
Developer: Activision
Even Call of Duty is getting in on the action this year! This is a hearty collection of calling cards for a range of identities as well as a player frame.
To redeem this pack log in to the game on your device and go to the store. In the bundle's section, you'll find the Pride Bundle available free!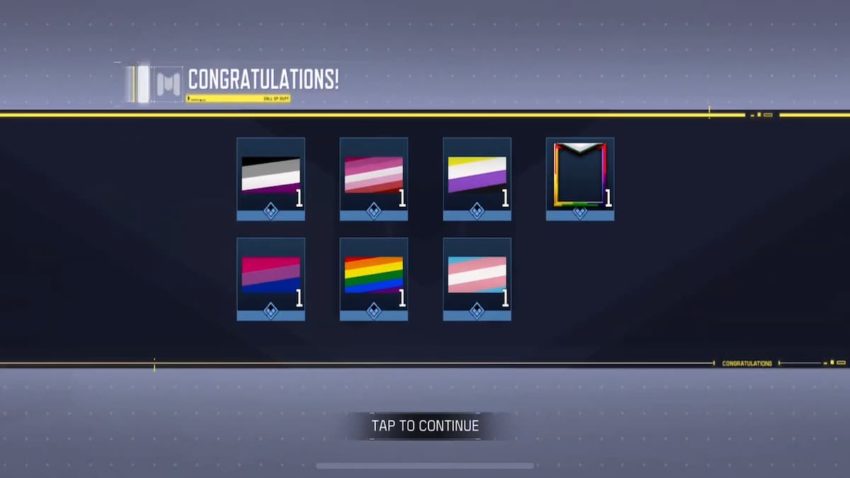 Next year I want to see more games embrace queer representation. It's a great way to show that we're seen and valued by the games that we devote so much time to.
I hope that next year we'll see even more games show off their support and embrace Pride Month as the hesitance from developers lessens. Every little bit counts in fostering diversity within game communities.