Happy New Year from all of us here at Checkpoint! With a new year comes big changes, but a lot of things in 2021 stay the same. Namely, free games for PS Plus, Xbox Live, Humble, Epic and Twitch subscribers. Let's dig in!
Maneater (PS5 only)
What better way to relieve all the stress you inevitable accumulated across 2020 than to play a shark attacking a bunch of unsuspecting beach-goers? Maneater surprised us (in a good way) when we reviewed it last year, plus the PS5 version has a bunch of extra bells and whistles so you can gore those pesky humans in next-gen.
Greedfall (PS4 only)
According to our review, Greedfall is an admirable effort to make a AAA-calibre open world RPG with a AA budget. And it's getting some new content in the near future, so best to get the original game for free while you've got the chance!
Shadow of the Tomb Raider (PS4 only)
The third and final game in the trilogy that envisioned Lara Croft as a millennial Rambo. When we reviewed the game, we found the combat to be simplistic, but loved all the variety in its puzzles.
Bleed 2 (available until Jan 15)
Despite having the kind of name a crime drama would use to call a fictional video game, Bleed 2 is a colourful sidescrolling shooter in the vein of classics like Contra. You've got a sword and a gun, but if you time it right, you can deflect enemy bullets back at them, which sound much more satisfying.
Little Nightmares (available until Jan 31)
A creepy little horror game with a charming art style and a tense atmosphere. With a sequel coming out next month, you should check out our review to see if you'll get a big enough bang for your..oh wait, it's free.
The King of Fighters XIII (available until Jan 15)
The second most recent instalment of the long-running fighting franchise, and the final annual release in the series before King of Fighters XVI came out six years later.
PC Building Simulator
If you think building a PC is fun and exciting, then this game seems to simulate that experience to an extreme degree. And since it's in first person, you can pretend you're Henry Cavill while you're playing it.
Ancestors: The Humankind Odyssey
A survival game from the director of the first two Assassin's Creeds. You are a prehistoric primate tasked with surviving harsh locales, avoiding dangerous predators, and growing your family. Hidden blade not included.
Pathologic 2
Look, you can read our review to see that we weren't the biggest fans of Pathologic 2 when it came out in 2019. But we still enjoyed its unique narrative and writing, so it's probably best to check out now while it's on the free games list.
Warhammer: Chaosbane
If you're looking for a Diablo clone set in the Warhammer universe, Chaosbane seems to be exactly that! Check out our review for more details. Personally, I never say not to more couch co-op games.
Total Tank Simulator
For the first time in gaming history, take control of the entirety of a tank. No longer will you have to simulate just part of a tank like in other, lesser games. Not really; this looks like Totally Accurate Battle Simulator, but with planes and tanks.
Song of Horror: Complete Edition
A horror game with fixed camera angles akin to classic Resident Evil titles. A dynamic AI system lets the monster change its behaviour based on how you play. There's also a song in it, I presume.
Not Tonight
Describing itself as a "post-Brexit management game", Not Tonight has you manage time efficiently in order to survive an unknown future. If you like free games to wear their politics on their sleeve, you might like this.
Vampire: The Masquerade – Shadows of New York
A standalone expansion to the Coteries of New York visual novel. Set in the sexy supernatural world of Vampire: The Masquerade, you'll need to play through this multiple times to see every possible ending.
Tales of the Neon Sea
A cyberpunk adventure in which you are a detective solving a series of murders. If you're fed up with the bugs and glitches in a certain other cyberpunk game, this might whet your gaming whistle.
Minoria
A Metroidvania from the folks who brought you the Momodoro games. Set in a world full of religious persecution, you take the role of nuns enforcing the church's will.
Deleveled
A puzzle game with an interesting conceit: it's a platformer with no jump button. You control two squares which can bounce into each other to propel them around and over obstacles.
The Ambassador: Fractured Timelines
A twin stick shooter set in a fantasy world. Instead of guns, you can throw your sword around and freeze time to get past enemies and traps.
Crying Suns (available Jan 8 – Jan 15)
A sci-fi roguelite in which you take control of your own space fleet! Explore a procedurally generated universe or three.
Star Wars Battlefront 2 (available Jan 15 – Jan 22)
When we first reviewed Battlefront 2, we described it as an enjoyable game "with a single large flaw", referring to its lootbox mechanics. Still, EA has continued to update the game since its 2017 launch, and it's a chance to play classic characters from the films. Maybe now that it's a free game, it'll be worth your while.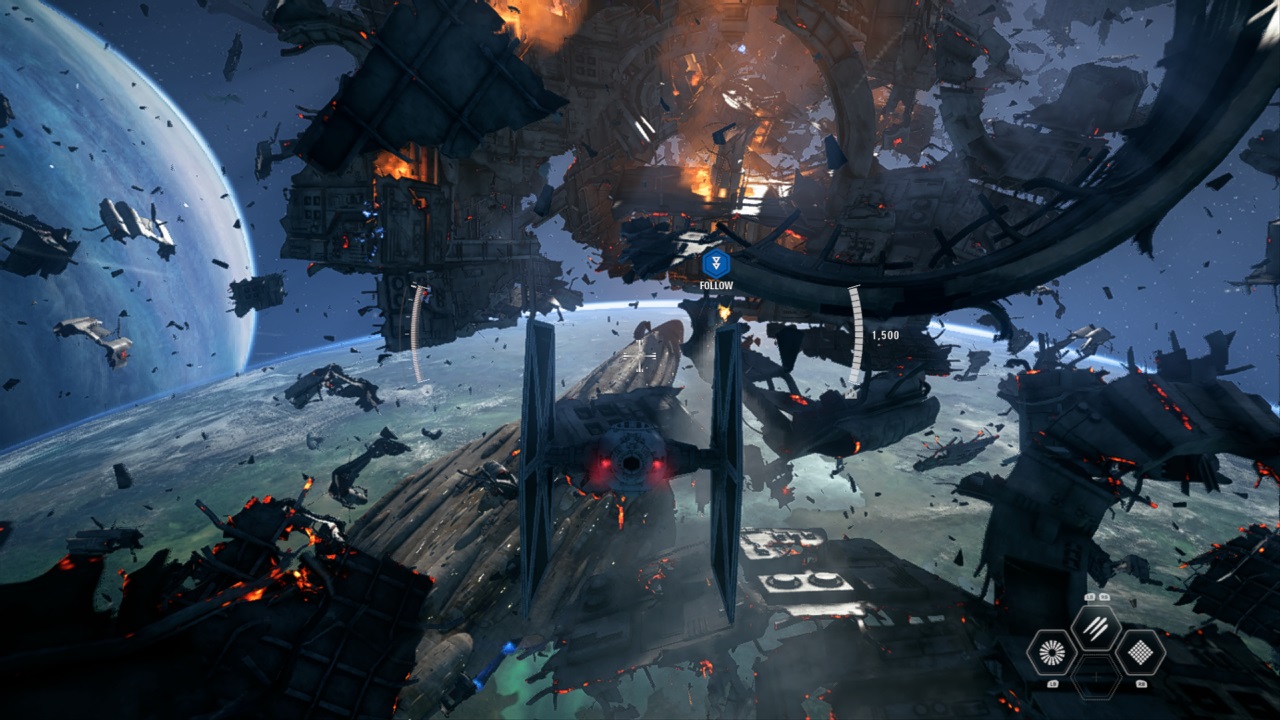 Yooka-Laylee and the Impossible Lair (available until Jan 9)
A spinoff Yooka-Laylee which drops the open-world third person gameplay in favourite of side-scrolling platformer action.
Close to the Sun (available until Jan 16)
A creepy first-person puzzle game. You are a woman looking for her missing sister inside a steampunk vessel.
HyperDot (available until Jan 16)
A simple puzzle game in which you are a dot who must dodge to avoid all the other dots. Comes with tons of customisation and accessibility options.
Sheltered (available until Jan 16)
Post-apocalyptic survival management sim, in which you help a family turn an underground shelter into their new home. Think Fallout Shelter, but much sadder.
Sigma Theory: Global Cold War (available until Jan 16)
A sci-fi espionage game. Recruit your cabal of spies and send them out around the world to recruit scientists to your cause.
Turmoil (available until Jan 16)
A cartoonish simulation of the 1899 North American oil rush. Dig for oil and develop a following. Ideally the ground kind of oil, not the snake kind.
Wizard of Legend (available until Jan 16)
An action roguelike in the vein of Hades and Hyperlight Drifter. Collect over a hundred different spells that you can combine together.
Overcooked (available until Jan 23)
The beloved cooking game that has been responsible for many fights and outbursts among friends. Chop up ingredients, make meals, and get them to customers on time in a kitchen that is actively trying to make you fail. This is one of my personal favourite free games on this list; it's a great time on co-op!
Sword Legacy Omen (available until Jan 30)
Tactical turn-based RPG set in a dark take on the King Arthur mythos. Get through brutal battles with your party, presumably without the help of a wise talking owl.
Along the Edge (available until Feb 2)
Visual novel with a hand-drawn art style. There's a whopping 60 different endings in here, which you can't say about most free games.
Alt Frequencies (available until Feb 2)
An audio mystery! You need to rewind and fast forward through an audio recording, but also you're stuck in a time loop. I'm keen to play this myself to find out what it all means.
Bridge Constructor Playground (available until Feb 2)
The second entry in the Bridge Constructor series. This one's aimed at a younger audience, which makes it perfect for any budding architects you may know.
Void Bastards (available until Feb 2)
Cel-shaded roguelike first person shooter. Direct a group of titular Void Bastards to safety while gunning down enemies. 
When Ski Lifts Go Wrong (available until Feb 2)
Physics construction puzzler. Build contraptions to lead skiers and snowmobilers to safety. It's Bridge Constructor meets Trials meets, fun fact, one of my worst nightmares.
And that's not including all these list of SNK classics (available until April 1):
– Art of Fighting 2
– Baseball Stars 2
– Blazing Star
– Fatal Fury Special
– Garou: Mark of the Wolves
– Ironclad
– The King of Fighters 97 Global Match
– The King of Fighters '98 Ultimate Match Final Edition
– The King of Fighters 2000
– The King of Fighters 2002
– The King of Fighters 2002 Unlimited Match
– King of the Monsters
– The Last Blade 2
– Metal Slug 2
– Metal Slug 3
– Pulstar
– Samurai Shodown II
– Samurai Shodown V Special
– Sengoku 3
– Shock Troopers
– Shock Troopers 2nd Squad
– SNK 40th Anniversary Collection
Holy wow, that's a lot of free games! Happy January, y'all.